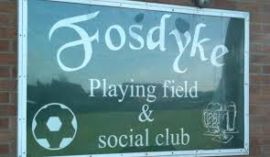 The Playing Field is located in Puttock Gate close to the centre of the village and it's purpose is to provide play and recreation facilities for the whole of the village.

The idea for the Playing Field originated in 1977 when a group of parents joined together to try and provide pitch facilities for a junior football team. In 1981 this initial aim was achieved when the field was purchased, seeded, a football pitch laid out, a car park, a small second hand porta-kabin with toilets for changing accommodation and some fairly rudimentary play equipment provided. In the late 1980's the Good Fellowship Bowls Club relocated to the Playing Field and they now have an excellent green with their own pavilion.

From these small beginnings the playing Field now has an adventure playground for younger children, an all weather multi use games area and a youth shelter. There is a thriving Sports and Social Club with modern facilities and access. The original porta-kabin changing room has long gone with a unit in its place containing separate accommodation for home and away teams and officials complete with showers and toilets.

The Playing Field Committee are now looking forward to their next projects to provide further play equipment and facilities for the young and old in Fosdyke.
---
Please see external web links below for the various clubs associated with the facilites at the playing field:
Fosdyke Parish Council is not responsible for the content of external internet sites.